Federal Firearm Defense Attorney
Rick Coad has experience in defending all of these types of illegal firearm cases. Indeed, he took one gun case from the trial court all the way to the United States Supreme Court.
Illegal Firearm Possession Charges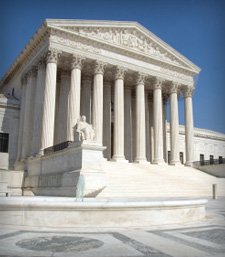 Federal firearms cases often involve the possession of a firearm by a prohibited person (felon in possession of a firearm), possession of illegal firearms, the sale of illegal firearms, the unlicensed sale of firearms, or record keeping violations by licensed firearms dealers.
Coad Law Office is located in Madison, WI, and defends people charged with federal firearms offenses in the federal courts in Madison, Milwaukee and Green Bay, Wisconsin.


Case Results
Federal Court – Eastern District of Wisconsin (2012)

The client was charged with straw purchasing a firearms for an undercover agent who claimed to be a convicted felon (felon in possession of a firearm) and thus unable to purchase a gun. The client had no criminal history and significant health and addiction issues. The government agreed that no prison term was necessary. The court sentenced the client to probation.